FASHION & SUSTAINABILITY: DESIGN FOR CHANGE (2012, Laurence King)
by Kate Fletcher and Lynda Grose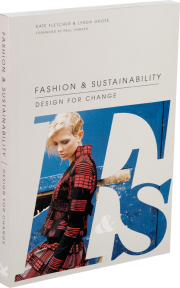 http://katefletcher.com/publications/books/fashion-and-sustainability-design-for-change/
Reimagines the complex fashion machinery as a well-balanced ecosystem.
An astute manual and manifesto for change – Paul Hawken (who wrote the forward) describes it as a "masterpiece of systems redesign."
The book examines innovations in materials, manufacture, distribution, use and reuse while illustrating a future where designers play the role of social communicators, activists, and facilitators.
A well worth read!